Back in August, the Room Escape Divas had a podcast with Donald Dennis about board games from an escape room perspective.
However, there were a few we did not cover that are marketed as Escape Room Board Games. I have not played them all, unfortunately, but I have collected reviews for you to peruse for yourself!
Note: Some of the games have a number of reviews. I have only linked to reviews from escape room reviewers because I'm elitist like that.
Escape The Room: Mystery at the Stargazer's Manor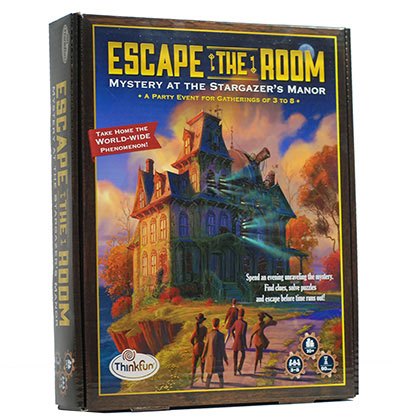 Price: $30 CDN on Amazon

Publisher: Thinkfun
Designer: Rebecca Bleau, Nicholas Cravotta
Other Links: Board Game Geek
Recommended Players: 2-4
Reset Instructions: Available on website
It's 1869 and the town's well-respected astronomer has not been seen since the untimely passing of his wife. Recently, strange things have been happening at his manor – loud and unfamiliar noises, an unpleasant smell, and smoke billowing from the observatory. It's up to you and your guests to solve the mystery at the Stargazer's Manor!
Probably the best ER-in-a-box out there right now (Oct 2016). All paper & cardboard, but fun paper & cardboard. Neat story, varied puzzles, nice illustrations. A bit lightweight for enthusiasts. Recommend 2-4p max. Can be reset & passed on if you're careful.
– Dan Egnor
…an hour-long puzzle with elegant art, creative puzzles, and will occupy you for an evening…
– Room Escape Artist
…you're never going to get a fully immersive theme or a game with a lot of moving parts, but for under £20 you get a really fun set of puzzles that, in our case, engaged the four of us for 45 minutes.
– The Logic Escapes Me
While the game might be a little bit too easy for escape room enthusiasts, it's still a bunch of fun and great value for the price. We'd recommend the game for an hour of fun puzzles, especially to families looking for something to do with young children.
– Escape Room Tips
The game flowed like an actual escape room where the puzzles lead from one to another seamlessly and were related to the theme. If you are interested in an at-home escape room game, this would be a great one to try!
– Esc Room Addict
Highly recommended – though expect experienced players to solve the game faster than the stated time limits.
– Magic Puzzles
If you finished this game, there is a spoiler laden podcast as the Room Escape Divas play through the game.
Escape the Room: Secret of Dr. Gravely's Retreat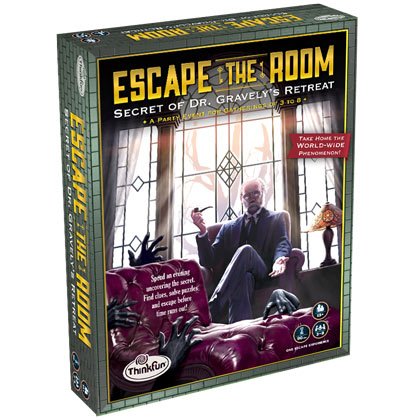 Price: $33 CDN on Amazon

Publisher: Thinkfun
Designer: Rebecca Bleau, Nicholas Cravotta
Other Links: Board Game Geek
Recommended Players: 2-4
Reset Instructions: Available on website
The year is 1913 and you are the lucky winner of a free stay at Foxcrest Retreat, where the famed Dr. Gravely has improved upon the latest in spa treatments and relaxation for those of high social standing. You take a long all-expense-paid train ride to the retreat. Upon your arrival, however, you and your fellow guests may find the "health retreat" is not what it seems…
Similar in style & presentation to Stargazer's Manor. All paper & cardboard with some string. A bit less good than Stargazer's — some bottlenecks in the middle and a puzzle genre that overstays its welcome, the story is a bit less engaging, the end a bit anticlimactic. Still a solid production.
– Dan Egnor
a must-play for escape room owners and designers because, as we've said before, if you cannot objectively blow away this game with your real live escape room, then you're making a big mistake.
– Room Escape Artist
We enjoyed Secret of Dr. Gravely's Retreat more than we did Mystery at the Stargazer's Manor. The puzzles were more difficult and varied, players had more opportunities to get stuck, and the story was more satisfying.

The main issue with this game … was the certain puzzles in this set can only be done by one person at a time, which everyone else watches and waits. This is fine for 2 people and maybe ok with 3 people, but will make playing with a group of 4 or more occasionally dull.
– Escape Room Tips
In summary, I think it's a half-hour of fun that's worth the money but that will disappoint if you compare it to the first outing. I'd recommend playing with two or three people for the best experience. More than that will likely get frustrating.
– The Logic Escapes Me
[Thinkfun] is consistently good, heavily story driven and literally everything we at Escape Authority look for in a physical game room, all right there in the comfort of your living room.
– Escape Authority
If you finished this game, there is a spoiler laden podcast as the Room Escape Divas play through the game.
Spin Master: Escape Room the Game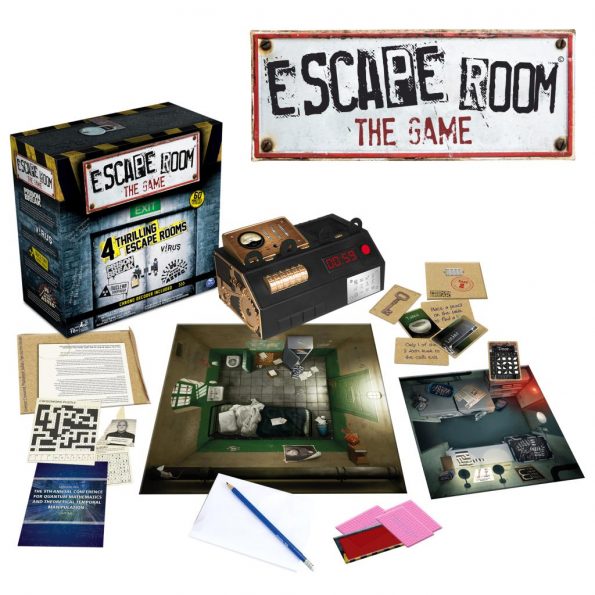 Price: $75 CDN on Amazon

Publisher: Spin Master Games
Other Links: Board Game Geek
Reset Instructions: Items meant to be folded, written on, etc.have a small "printer" printed on it, meaning you can find this item on the website and print it.
Can you keep your cool under pressure? Escape Room The Game from Spin Master brings the thrill and mystery of an escape room to your home. Work together to solve puzzles and find hidden clues to escape before time runs out! The Chrono Decoder counts down from 60 minutes and creates a real escape room atmosphere. Play 1 of 4 different escape room adventures with varying levels of difficulty: Prison Break, Virus, Nuclear Countdown, and Temple of the Aztec. You win or lose together with Escape Room The Game.
The games are quite fun, except that the first one (Prison Break) has a particularly bad puzzle at the end — probably the worst puzzle in the whole 4-game box — which is sad because it puts people off the whole set which is otherwise pretty nifty.

The materials are mostly paper/cardboard with an electronic timer/verifier/codesheet gadget. The gadget is cute enough and works OK, though it feels a little cheap. Hints are time-triggered and pretty well designed, but of course may or may not match what you need at any given moment.

The stories are cliche (prison break, virus lab, etc) but capably told, the kit is good quality (for being paper and cardboard), and the illustration is well done.

Recommend 2-4p max. Can be reset as long as you're careful not to mangle anything.
– Dan Egnor
Currently, there are no English reviews from escape room reviewers. Exit-Game.info, a German escape room site, has an unboxing video, as well as a review of one of the games, Prison Break.
Heist Party: Grand Theft Anti-Matter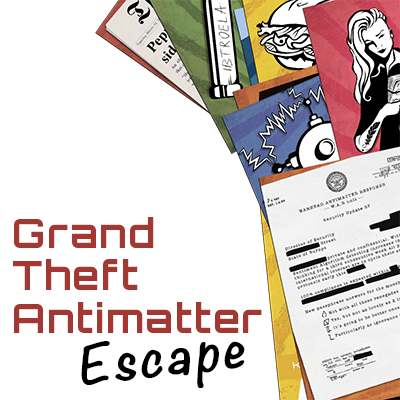 Price: $15 USD from website
Designer: Elliott Bailey
Publisher: Heist Party
The United World Government has almost finished building their Warhead Antimatter Response (W.A.R) facility. The Heist Crew cannot let that happen
Note: There are two other games on the website. We have reviews for just one of them.
There's a great concept and structure here. I am willing to bet that Heist Escape Party could make something exceptional if they focus their efforts to make more consistently great puzzles that also serve their story.

At $15, Grand Theft Antimatter is worth the money for puzzle lovers, but don't expect it to exceed your expectations.
– Room Escape Artist
Overall we had a lot of fun with this one. I still really like the at-home escape concept and I think Heist Party has a good formula for it.
– Room Escapist
Conundrum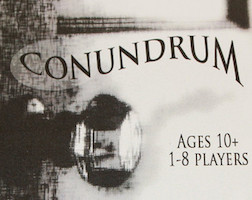 Price: $67 CDN on Etsy
Publisher: Coventry Road Games
Recommended Players: 2-4
Reset Instructions: Can NOT be reset (If you don't write on the paper, you might be able to rebuild it with a trip to a craft store.)
Conundrum will provide you and your guests with a unique and memorable party experience. Whether you are hosting a dinner party, social event, theme night, or just getting together with friends; this game will provide the perfect ice breaker. Even strangers will be talking, laughing and puzzle solving like the best of friends in no time.
Packed full of fun physical components; no paper-only puzzles. Some legit physical aha's. Very much handmade from craft store materials. Puzzle flow is open-plan which can lead to confusion (but there are cues, and hints are available). Hardly any plot. Would easily be a top contender except for the price & lack of reset.
– Dan Egnor
Unreleased Games
Escape Room in a Box: The Werewolf Experiment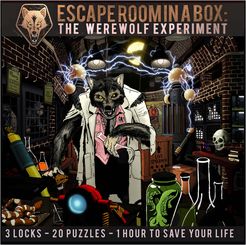 Price: $45 USD
Kickstarter: Game scheduled for released on Feb 2017
Publisher: Stay At Home Werewolves
Designer: Juliana Patel, Ariel Rubin
Other Links: Board Game Geek
In Escape Room In a Box: The Werewolf Experiment a group of two to six people has only one hour to work together in order to find clues, solve puzzles, and crack the codes that will unlock the antidote and keep them from turning into werewolves!
…offered us a better experience than many rooms do, and it did so from the comfort of our own dinning room, at the price of 1.5 tickets to an average room escape.

Escape Room In A Box: The Werewolf Experiment is a great game. It's well-designed, innovative, and fun.
– Room Escape Artist
As a light introduction to the world of puzzle solving with an attached story Escape Room In A Box: The Werewolf Experiment does its job! At the same time, board game, escape room, and puzzle enthusiasts will probably be a bit disappointed unless they adjust their expectations…
– Esc Room Addict
Escape Room in A Box is the perfect party game and a must buy for room escape lovers and puzzle solvers. It's also a great introduction to escape rooms if you have friends who have never tried one.
– The Room Escapist
The Game Room Part 1: Mr. Boddy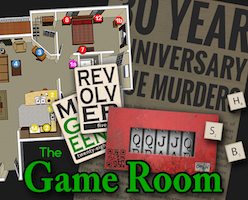 Price: $28 USD
Kickstarter: Kickstarter still running
Publisher: Black Toad Games
Step into the shoes of hot-shot news reporters racing to solve a maze of clues and puzzles in order to earn an exclusive interview with a notorious mad-man! Only the winning team will land the story, so brush up on your favorite board games if you hope to win.
Everyone else involved had a good time as well. As with all play-at-home escape rooms The Game Room Part 1: Mr. Boddy wasn't as incredible as a great real life room escape, but it also doesn't have to be.
– Room Escape Artist
Worth Mentioning
There are a few other offerings which I will mention here.
Exit Das Spiel is a German escape room board game. There is little about it on the internet other than the link on Board Game Geek. It looks pretty, though!
SCRAP also has an escape room take-home game similar to their live events called PuzzBox. It's only available locally and sold out, but Escape Room Tips has a review on it.
Room 25:Escape Room is an expansion for the co-op board game Room 25.
Escape Game Products has three games ranging from £19 to £299 pounds! If anyone has played them, please let me know.
And of course, coming in June of 2017, the T.I.M.E. Stories creator has created a card game called Unlock: The Escape Room Adventure Game. It will be cool to see how that plays out!
By all means, if you know of any other escape room board games, or other reviews I have not included here, please leave a comment and I will add it to this article!