A survey targeting escape room enthusiasts was open for completion from July to August, 2018. Lee-Fay Low compiled the raw results into the following summary of selected results. A total of 562 people completed this survey.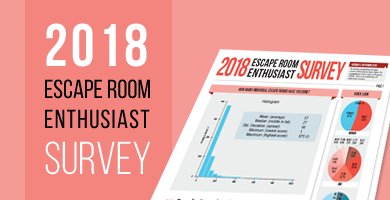 The survey was conducted using Google forms. You can view the questions and Google's analytics of the survey.
The raw results are available in all their glory in form of Google Spreadsheet. Good luck with that. 😀
Update: Randy Hum of Escape Rumors has made an interactive dashboard with this data! It's pretty cool!